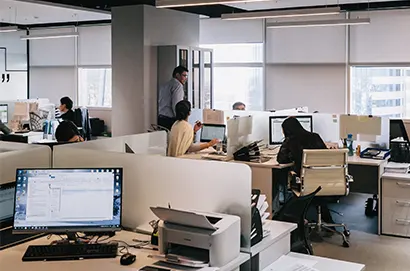 Sounds strange, huh? Why would anyone damage their company, but I'll explain the key indicators that will enable you to determine if you are doing so on purpose or not.
Read these Points and check whether it's true or not.
#Sign No.1
Is your Product available only offline and not on the "INTERNET"?
We all are living in a world where every product every service along with almost every human being is available on the Internet. Whether it is about ordering online food or selling it, everything is on the internet. If you are not willing to sell your product or service online then my friend, it's a sign that you are destroying your business. A large number of communities have left offline shopping and they prefer to buy products from the tip of their fingers whether it's from their Smartphones or Computers. To resolve this issue and make your business grow, hire a digital Marketing company that makes a website for your business. One of the Best IT and Digital Marketing companies that have both a good reputation and premium services is VRD Creative.
It is a reputed IT and Digital Marketing company known for its exceptional IT and Digital Marketing services.
#Sign No.2
Not making an eye-catchy Website for your Business.
You just not only need a website but a good-looking website that speaks up for you and attractively shows your services and makes viewers get attached to it. Also, a website needs to be user-Friendly and not complicated.
To make a Neat and User-Friendly Website, you need to get in touch with a Digital Marketing Company. If you are from Delhi-NCR Or any region near it, the only best Digital Marketing Company in Noida is VRD Creative.com. They offer exceptional IT and Digital Marketing to their clients. Whether it Comes to Web Development, Web Designing, or Mobile App Development, They know very well how to make any website grow through their IT and Digital Marketing services.
#Sign No.3
Not Using Internet Tools to make your website grow.
There is a major misbelief about making a website is that you only need to make a website and then wait for some time for it to grow. If this was true then every out-dated website should have become a hit. But that is not the case. There are many procedures needed to make the website grow. Some of them are SEO (Search Engine Optimization), Google Ads, Keywords, etc. Basically, These Procedures make any website grow on Google and Other Social Sites. They bring the ranking to the top which results in making a website easily accessible to viewers. There are rankings on Websites and the website with the most number of rankings are appear on the first top ranking of Google. It's a IT and Digital Marketing Related stuff and although there are thousands of IT companies available, Only a few companies actually offer premium IT services. If ranked among the top companies, there is an IT company that is both experienced and offers excellent Digital Marketing services and that is VRD Creative.com. It is a Noida-based Digital Marketing and IT Company that has a trusted client base with experience of more than 20 years. Not Only Internet services but they also have other Digital Marketing and IT Services including-Web Development, Web Designing, Graphics Designing, and Content Writing.
#Sign No.4
Lack of Information about a Good Content
Have you heard about the popular slang "Content is the King"? Well, the phrase actually gets fits on Website making. Basically content is the Information about your service which you wanted the customer to read. People on the Internet love to read funny or informative slang, Phrases, taglines, etc. It forces them to read more about the product or service. Good Content increases the viewer of the website. Is the information of your Service or Product just written on your site like data? If yes then you need to add a little customization to it. The content of your Website has to be unique and Eye-Catchy Otherwise at some point, the audience will get bored and then leaves your website. This is actually Bad for your website. Now if you wonder how can you customize the content of your website is that you don't need to. There are Experienced and highly professional Content Writers
who can write the content of your website. Not only the Product's Content, but They also give you some other catchy content data including-Taglines, Catchphrases, Blogs, About page Content, etc. Now when you understood whom you had to find, a new question occurs where to find them? Well, Why am I here for? I have a Content Writing Company that will not only write Excellent content for you but also helps you to make your website and Product become a Hit in the market. The company name is VRD Creative.com. It's the most successful and experienced IT and Digital Marketing Company from Noida Delhi-NCR, serving its clients best IT and Digital Marketing services for the past 20 years. Just Contact them and make the content of your website eye-catchy and unique.
#Sign No.5
Ignoring Graphics
Now if the content is ready for your website, you just need stylish graphics for your website. Graphics are a very essential part of a website. It is the Graphics that forces the audience to watch your product and take information about it which later goes to buying that product. Graphics need to be unique and eye-catchy. Everyone likes colourful images that have designs and Symbols. For a Stylish Website, you just need a Graphic Designer who makes stylish Graphics, Banners, Promotional Graphics, etc. VRD Creative.com has some of the best Graphics Designers who make unique and stylish Graphics for your website. They are termed as the Best Graphics Designing Company in Noida Delhi-NCR.
Conclusion
These are some of the major points which show whether you are Destroying your business or not. If you have any issues regarding your website and the marketing of your Product whether it is about website design, Web development, Graphics Content Writing, etc., you can still make your business grow by taking help from a reputed Digital Marketing Company.
Why VRD Creative?
Although there are thousands of IT and Digital Marketing companies who promise to give good services there are only a few that fulfil their promises. VRD Creative is one of them. From their establishment to today, they have assisted a countless number of their clients in reaching their goals and becoming a hit. Their services are both Premium and Affordable. They have even been termed the best Digital Marketing Company in Noida. They understand Company requirements and work on the base of clients' requirements along with their self-experience.
If you have any questions or concerns, VRD Creative is here to assist you. Please feel free to reach out to us at +91-7827605253 or use the Contact Us form.